Spring cleaning tips to help sell your house part 3 – repairs and decoration
This is the final blog post on spring cleaning to help sell your house. In earlier blog posts we covered the best ways of getting rid of your junk and cleaning and tidying. All of these should be low cost measures or even money making if you can sell your junk.
The third and final blog post covers repairs and decorations. This is where you need to be prepared to invest time and money in fixing structural issues and features as well as sprucing up the walls, fixtures and fittings.
Take the plunge – check the plumbing, heating, electricals, floors and fittings
Plumbing
Get this out of the way first. Plumbing includes all taps, wash basins, sinks, toilets, baths and showers. Does everything work as it should? Are there any leaks? Do washers need to be replaced? A relatively cheap way of quickly sprucing up sinks and wash basins up is to replace the taps.
Check your toilets for proper flushing and filling and replace ball cocks and valves if required.
Heating
Check when was the time you had your boiler serviced and dig out the invoice for proof. Also do thermostats, timers and central heating works as they should? Simply replacing a pump can solve a lot of problems. Remember, try to be honest and make sure that you know about any major issues and have attempted to fix them or at least tell the buyer so they know what they are getting.
Electricals
Make sure that all lights work and have shades. If you have recently replaced lots of bulbs with more expensive LED lights (but with a 20 to 25 year) lifetime, you need to keep a record of how much you have spent and include this in the negotiation. Light and lighting are very important for creating a good impression.
If you are leaving behind appliances then make sure they are working and in good repair.
Fittings
Other fixtures and fittings like doors and door knobs should work properly. Ill-fitting doors should be re-hung and repaired where necessary.
Your front door creates an obvious first impression and this should be secure and fitted properly.
Floors
Floors should be checked for any weak points, wearing floor boards. If you have any concrete floors check for wear and fix if required.
Laminate flooring is generally very hard wearing but replace worn out sections if required.
Sometimes you can do this work yourself if you have the skills, but be prepared to get professional help as this is likely to be cheaper in the long-run – balance your time versus whether you can get the work done to an acceptable standard.
Decoration
One area where you can really make a difference is the standard of the walls, wallpaper, wood and windows.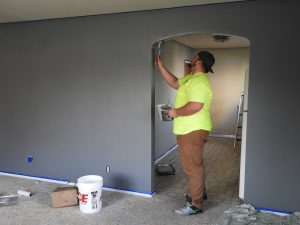 If you have already done your cleaning, then you'll know which parts of your house could do with some repainting and fixing. This can make an enormous difference and is well worth the investment of time and money.
Sometimes where you have picked a very (let's call it) 'personal' colour scheme it might be better to ditch this in favour of neutral and light colour schemes. This makes it easier for prospective buyers to  imagine living in your house.
Hopefully if you have wallpaper then you will have kept spare rolls for patching any worn areas.
Fix and repaint skirting boards and other woodwork if required.
If in doubt ask your estate agent, as they will help you prioritise what are the most pressing jobs that should be done to help sell your house.
Please get in touch if you want a property valuation or want to view the properties we have for sale or rent: Foster Lewis and Co estate agents office on 02476 592929 or use our contact form.
Further reading
Repairs to help sell your house
Things to repair before selling your house
Top tips to make your home more saleable