5 key repairs that increase your property value
There are many factors that increase your property value that you can't control:
Your property location
The quality of local schools
The success of the local employers and general state of the economy
The look and feel of your neighbourhood, suburb or road
The reputation of your area
Etc etc
Thankfully, there are lots of actions you can take that can increase your property value that you can control and that's what we will cover here. These actions don't have to be costly, but be prepared to spend some money. However the net result will be to increase your property value.
It will also make it a nicer place to inhabit while you are in the process of selling your home and finding somewhere new.
Here are some key repairs that increase your property value:
A new paint job
A quick lick of paint is one of the most cost-effective ways of boosting the value of your home. This looks good and can help hide other problems, such as water marks or smoke stains that have accumulated over the years. As you plan the new paint job, please bear the following in mind: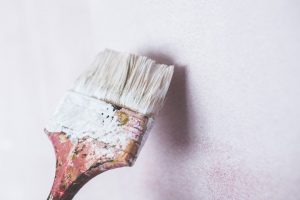 Use light-coloured, neutral tones. This will appeal to widest range of buyers and not distract people from the general shape and size of the room. Light colours also help make rooms appear more spacious.
Repair any holes or dents using a good quality wall filler. Sand down and prepare properly before painting so it is part of the wall. Consider using a plasterer for quick skimming job if there are more serious issues.
Although wallpaper may be making a comeback, in most cases it looks hopelessly out-of-date and is very much a matter of personal taste. You'll want to scrape off the wallpaper and paint over it with a neutral colour instead. This will help make it easier for buyers to imagine what they would do with the space.
For a quick fix focus on the exterior trim and front door in this case as these create the first impression.
If you're not confident with your painting abilities, hire a professional to get the job done right. A bad paint job can do more harm than good.
Lighting
Check the bulbs and lighting throughout your home. Make sure all your lightshades are in a good state of repair and replace where necessary. Cheap paper lightshades always look much better than a bare lightbulb.
The newer LED type of lightbulbs give instant light and are available in different types of light, e.g. warm white, cool white and dimmable so you can really give your rooms an inviting or dramatic appearance.
Kitchen repairs and maintenance
The kitchen is the heart of your home and it should be a clean and comfortable space.
Fix any drawers or cupboards in need of repair, including replacing hinges or tracking. Replace cupboard doors if necessary.
Repair damaged laminate on your worktop, replacing the surface if necessary.
Repair leaking taps
Make sure all the chrome is clean and shiny
There's no substitute for applying a bit of energy to cleaning and polishing surfaces and parts. If you have built in appliances make sure they are working.
Vinegar, baking soda and even old diluted black tea are effective ways of cleaning surfaces. (see these links for more tips – Money saving expert tips on kitchen cleaning, Spring Cleaning tips – How toclean Chrome)
Bathroom repairs
This is the other room where the family will spend a lot of time. Potential buyers and valuers of home will look closely at the bathroom when evaluating property values.
Clean all chrome and taps, make sure there are no leaks.
Make sure the toilets are immaculately clean and without any strange odours!
Consider a new toilet seat, shower curtain or shower door for an instant and cheap lift to the appearance.
Repair chipped tiles and regrout to lift the appearance.
First impressions are important, but people will give the bathroom close scrutiny.
Gardens and driveways
Make sure the gardens are tidy. The lawns should be cut and your flower beds should be tidy and well defined without any weeds or out of control areas.
Fences should be a good state of repair. Replace or paint fence panels where necessary.
Also the driveway should be in a good state of repair and you should resurface where it's needed.
Replace or repair broken paving slabs if required. Resurface or repair driveways.
Simply adding large pot plants to a plain area can give it a lift cheaply.
These are quick 5 quick fixes to increase your property value. If you have bigger problems in your home that you know about then you should get this fixed before a valuation or putting your home on the market. If in doubt get professional help.
Please get in touch if you want to discuss selling your home at our Foster Lewis and Co estate agents office on 02476 592929 or use our contact form. We are based in Coundon Coventry.
Further reading
Top Tips: How to make your home more valuable and sell faster