Christmas 2019 – Fave Finds!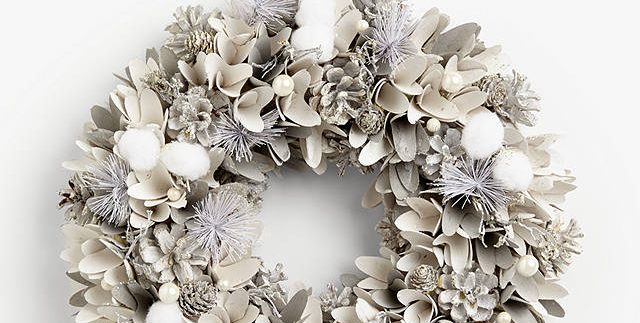 We've teamed up with the wonderful Emmie Maycock of EM Interior Design to share with you some Christmas decorating inspiration.
Wreaths…
It's December, it's dark and cold outside and you can't wait to get home, right? And with all those Christmas visitors (house viewings), first impressions count! Take a look at our favourite finds of this year…
With its neutral and elegant feel, we love the Snowscape Snowball & Pearl Wreath, White from John Lewis £30 (1). The mini "snowballs" look great! For those looking for the more traditional look, the Sherbet Pine Wreath by Dibor (Next) £27 (2) is perfect. And you can personalise this online! Our third choice is a little different, foliage is very on-trend and for anyone looking to have something a little different this year, the Eucalyptus Metal and Artificial Leaf Wreath from Maisons Du Monde £16.50 (3).
A nice touch, especially for those with little ones, is to make your own wreath. Take a look online for wreath making kits to find your perfect combo…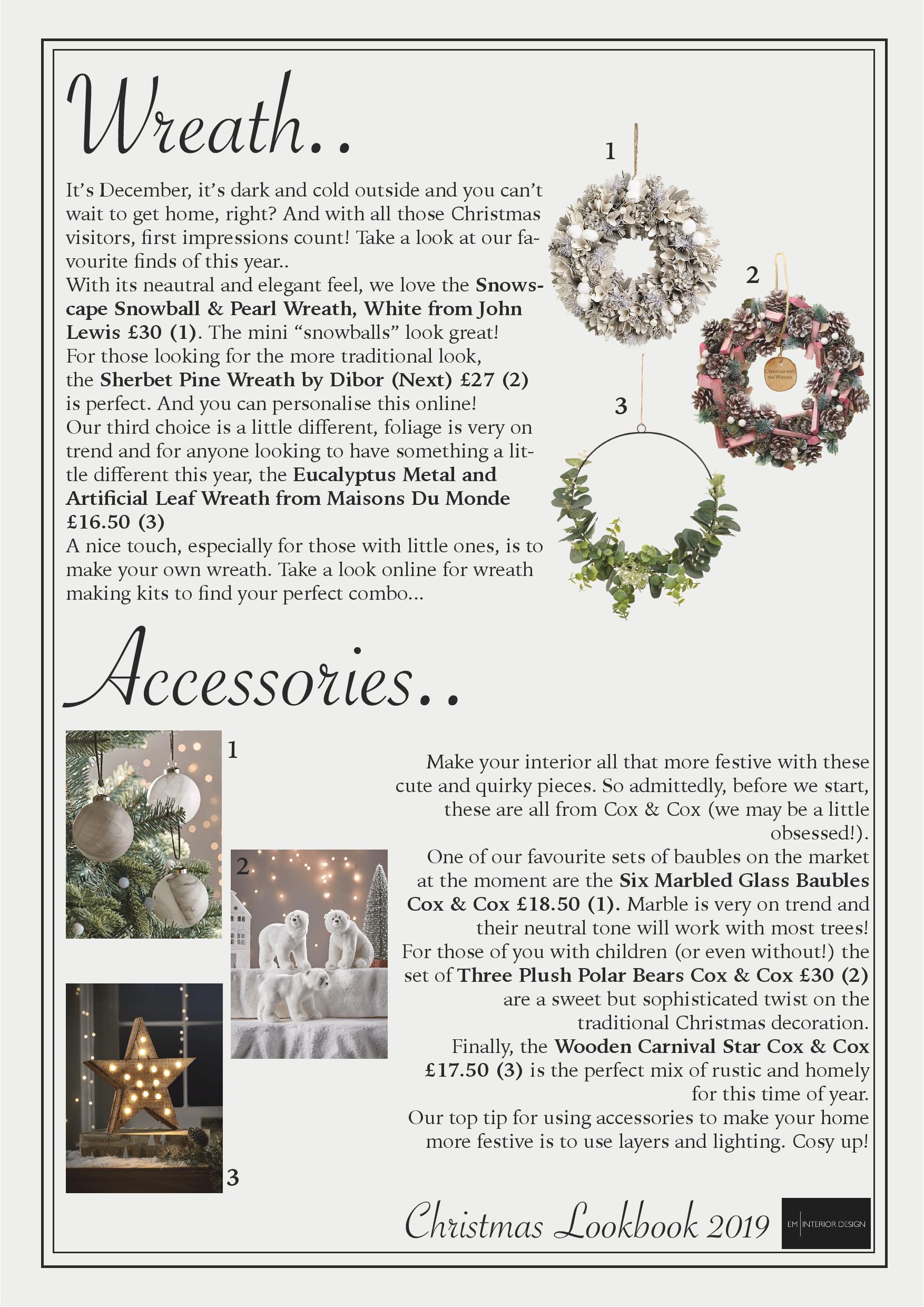 Accessories…
Make your interior all that more festive with these cute and quirky pieces. So admittedly, before we start, these are all from Cox & Cox (we may be a little obsessed!). One of our favourite sets of baubles on the market at the moment is the Six Marbled Glass Baubles Cox & Cox £18.50 (1). Marble is very on-trend and their neutral tone will work with most trees! For those of you with children (or even without!), the
set of Three Plush Polar Bears Cox & Cox £30 (2) is a sweet but sophisticated twist on the traditional Christmas decoration. Finally, the Wooden Carnival Star Cox & Cox £17.50 (3) is the perfect mix of rustic and homely for this time of year. Our top tip for using accessories to make your home more festive is to use layers and lighting. Cosy up!
Trees…
So, the main event! Everyone loves a Christmas tree. Big or small, green or snowy. Here are a few of our faves this year! We love the fullness of the Spruce Christmas Tree 6ft The White Company £199 (1) teamed with Wicker Christmas Tree Skirt £45 (2). This tree is a little more on the expensive side but from such a reputable brand, this is built to last! The wicker skirt is a great addition to hide the base and looks great surrounded by presents on the big day. This isn't a pre-lit tree, so we'd recommend some warm white fairy lights.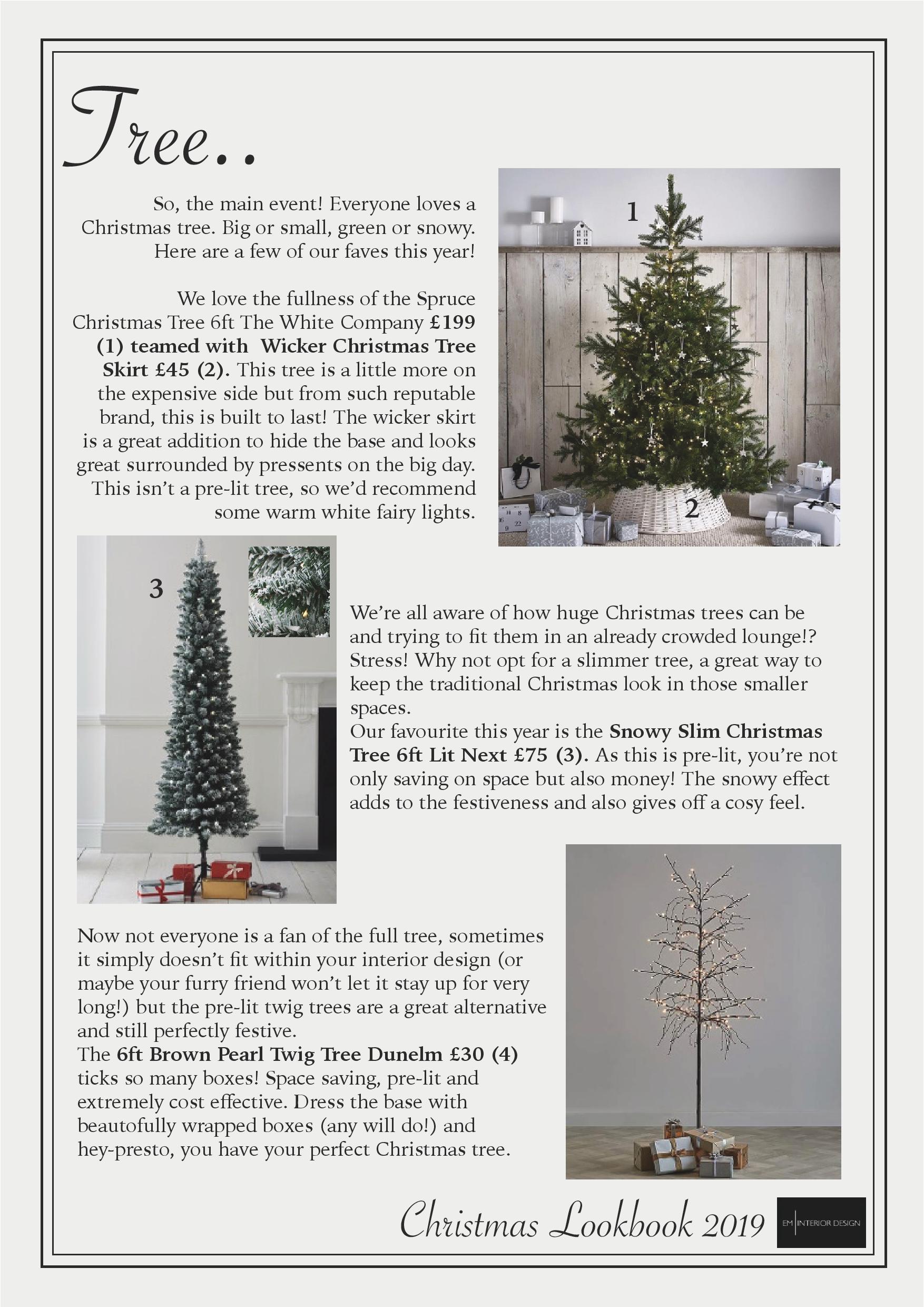 We're all aware of how huge Christmas trees can be and trying to fit them in an already crowded lounge!? Stress! Why not opt for a slimmer tree, a great way to keep the traditional Christmas look in those smaller spaces. Our favourite this year is the Snowy Slim Christmas Tree 6ft Lit Next £75 (3). As this is pre-lit, you're not only saving on space but also money! The snowy effect adds to the festiveness and also gives off a cosy feel.
Now not everyone is a fan of the full tree, sometimes it simply doesn't fit within your interior design (or maybe your furry friend won't let it stay up for very long!) but the pre-lit twig trees are a great alternative and still perfectly festive. The 6ft Brown Pearl Twig Tree Dunelm £30 (4) ticks so many boxes! Space-saving, pre-lit and extremely cost-effective. Dress the base with beautifully wrapped boxes (any will do!) and hey-presto, you have your perfect Christmas tree.