Coventry estate agents Foster Lewis and Co on BBC West Midlands Inside Out programme
Glenn Foster, Managing Director of Coventry estate agents Foster Lewis and Co was featured on the BBC West Midlands Inside Out programme that was broadcast on Monday 21 September 2015. Presented by former Blue Peter presenter Andy Akinwolere, the programme looked at the truth about the gap between housing supply and demand.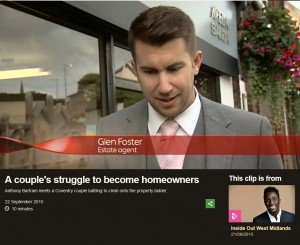 Glenn was featured in the first section (from about 1 minute 30 seconds) giving advice to prospective first time buyers Reece and Aisha who are currently trying save for their first house together. He was asked about the current state of the property market in Coventry.
"The average two bed in Coventry, on a new build site, is between 145 and 160, which is a lot higher than it would have been 10 years ago.", said Glenn.
"So finding a property for my young couple, is going to be a challenge for you?", asked the reporter.
"We'll do our best, but they hopefully have got a decent budget and are prepared to be flexible, and hopefully we'll find something for them.", replied Glenn.
Glenn met the couple to find out a little more about their current situation and give them advice on what they could expect to find for their budget in the Coventry area.
The section moved on to talk to housebuilders about the common issue of the rate of new house building and how the shortage is driving up demand.
Watch the feature here:
See the feature here: A couple's struggle to become homeowners