Property Alerts on Rightmove

How to set up property alerts on Rightmove
One question we get asked all the time is about how to get alerts when property details are posted on Rightmove – so here's a how-to guide to do just that!
All of the properties that we sell are posted on Rightmove, and within just a few minutes you can set up alerts to your email informing you when new properties come onto the market.
Sign-up
Firstly, you will need to set up an account with Rightmove – it's free, and straight forward: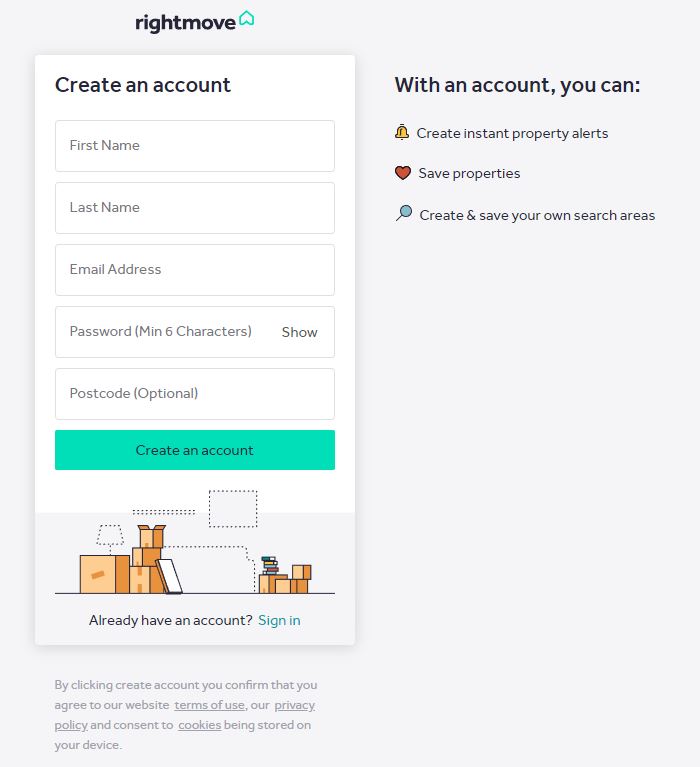 And they state that they won't share your details with third parties: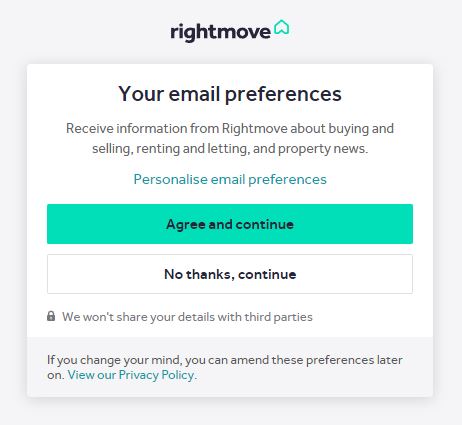 When you've selected 'Agree and continue' it will take you to the main Rightmove homepage.
Search criteria
On the home page, put in a location to start your search. You can be very specific, putting in a postcode if you know the exact area you want to buy a house. We're using 'Coventry, West Midlands' in our example here: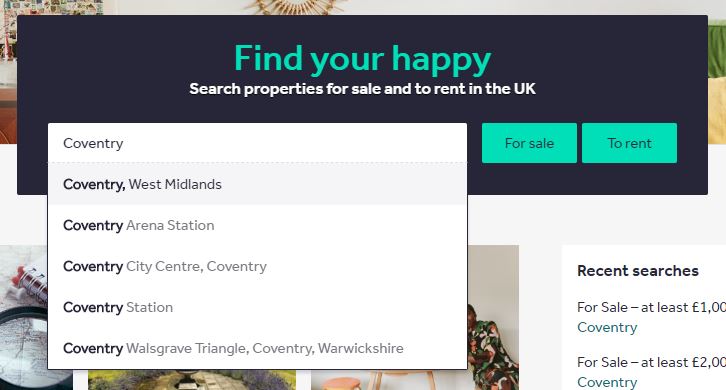 Select the area you want to search from the dropdown list and hit 'For sale' or 'To rent' to start the search.
The next page is nearly the same, whether you're looking for sales or rentals:

Use the dropdown lists to put in your parameters for your search. We'd recommend using the Search radius option by selecting 'Within 1 mile' or 'Within 3 miles', unless you are being very specific about where you are looking. Fill in the other boxes to match your criteria and select the 'Find properties' button.
Search results
Depending on how wide your criteria is set, the search will return varying results. For example:

Have a look at the first page of results – are these the kinds of properties you want to buy, in the right location, at the right price? If they are, then use the 'Alerts (Instantly)' link next to the description, highlighted below, to set up an alert:
You can then select the frequency of the alert: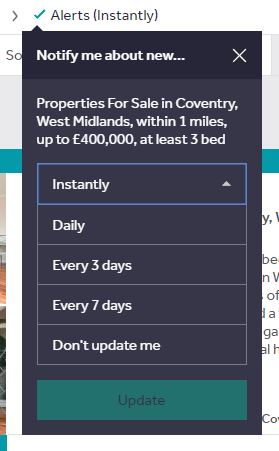 If you're actively looking, you might want to select 'Instantly' (and then hit the 'Update' button). Or, if you know you won't be checking your emails throughout the day, select 'Daily' and you'll get one email a day when new properties are posted matching your criteria.
Not the right search results?
If the search didn't return the right results for you, use the drop-down filters on the black bar to refine your search. The button on the right 'Filters' gives you further selection criteria:

It's useful to be able to narrow down your search in this way.
And that's it – your alert is set! You can set up multiple searches if you wish to, and they are all saved in the 'My Rightmove' icon in the top right of the screen.
More specific search area?
You can also spend some time editing the areas you want to search in by using their map function. To the right-hand side of a search results page, there is a map, with 'Edit search area' (highlighted below):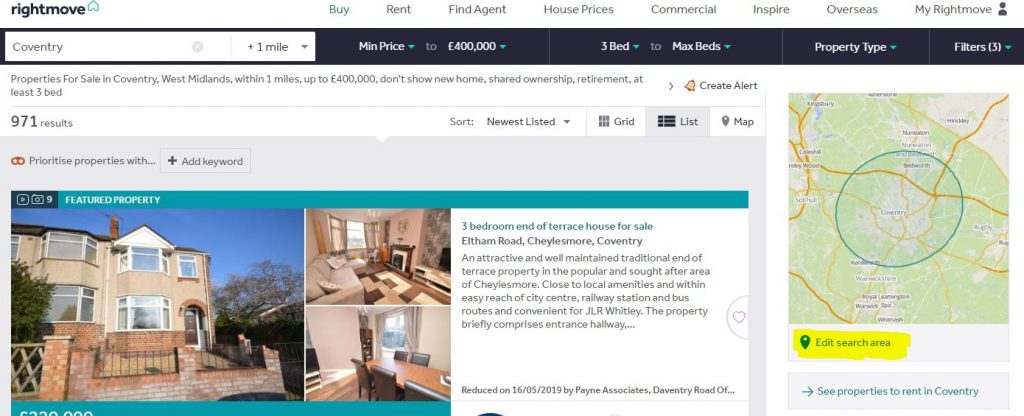 Rightmove then displays the search area (as below).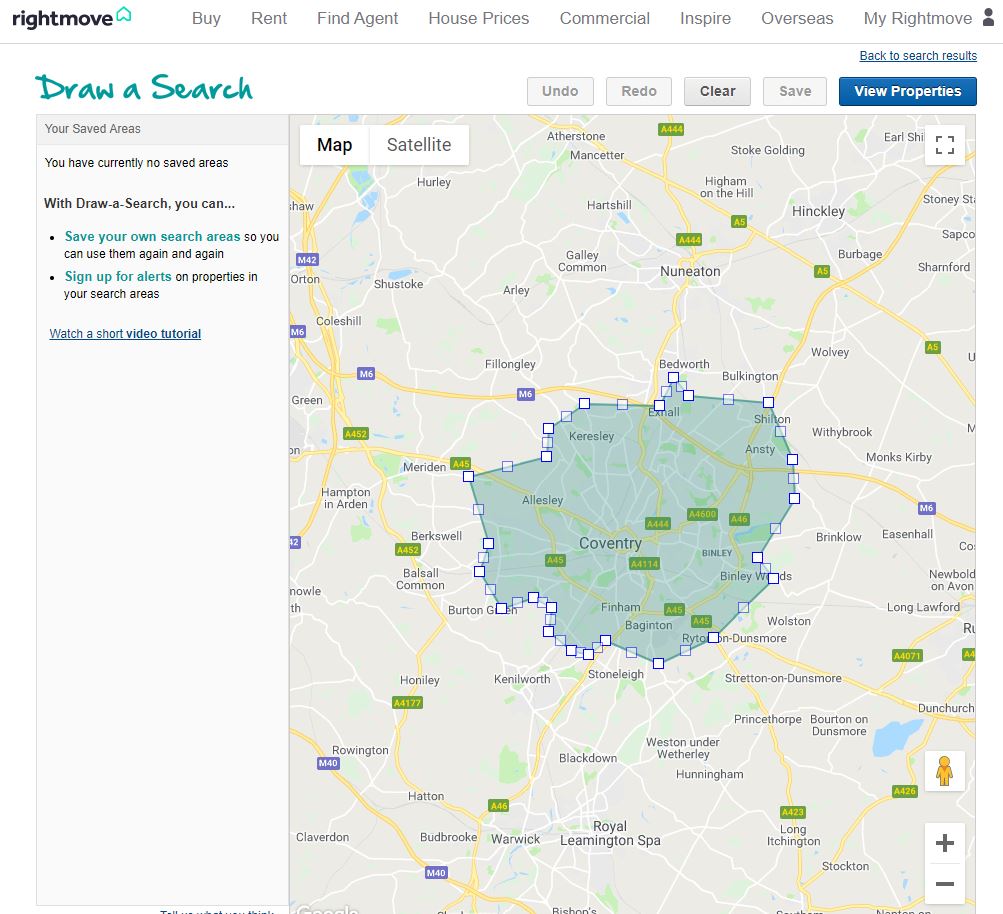 You can then zoom in and out, and move the little square map points to include or exclude areas you want to live. E.g. we've moved the map points so the search now includes Withybrook and Monks Kirby. You can then save that new search, and create alerts for it too.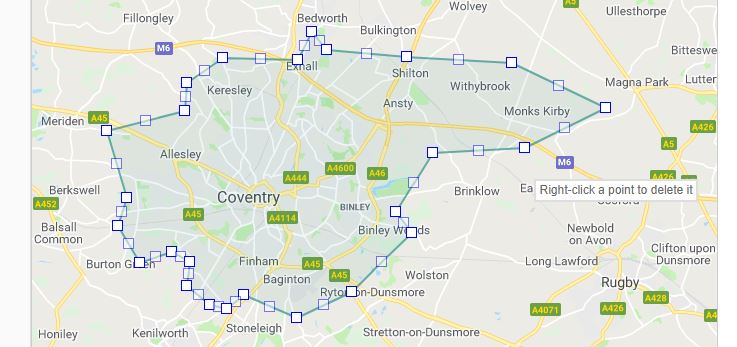 You can also search by your preferred estate/letting agent, and create an alert for when they put up new properties!
(We'd highly recommend this!)
Finally…
There's also a Rightmove app you can download to smartphones or tablets. It's really useful as if you're out and about, and like the look of an area, you can search by 'current location' to see if there are properties in that area, and then save that search to be alerted when properties do become available.