The Golden Rules When it comes to Indoor Plants…

Indoor plants
Sellers often don't consider their indoor plants and flowers when they put their house on the market. It's a small feature in a house, but it can make a tangible difference in a prospective buyers opinion of the property.
Plants are a good thing to have in a house, they can make a great first impression. A healthy, well-cared-for plant gives the impression of care and attention – but there are some basic rules to follow.
Don't overdo the number of plants you have in the house. It shouldn't feel like a tropical jungle, and too many could put some people off if plants are not their passion. So keep it in perspective!
Plants can provide a focal point, and are wonderful at bringing the outside in. Plants are natural, unpredictable and therefore not staged or fake – that kind of realism adds a much more homely feel and a genuine feeling to your interior. Foliage can provide a sense of perspective too, so careful positioning will draw attention to areas of a room you want to highlight.
Vendors often spend time 'depersonalising' their house before it goes on the market – removing family photos and trinkets in an effort to declutter and not have personal items on display for viewings from (essentially) strangers. Sometimes the result is a bit sterile, and plants can bring back that personal touch, without it being too personal.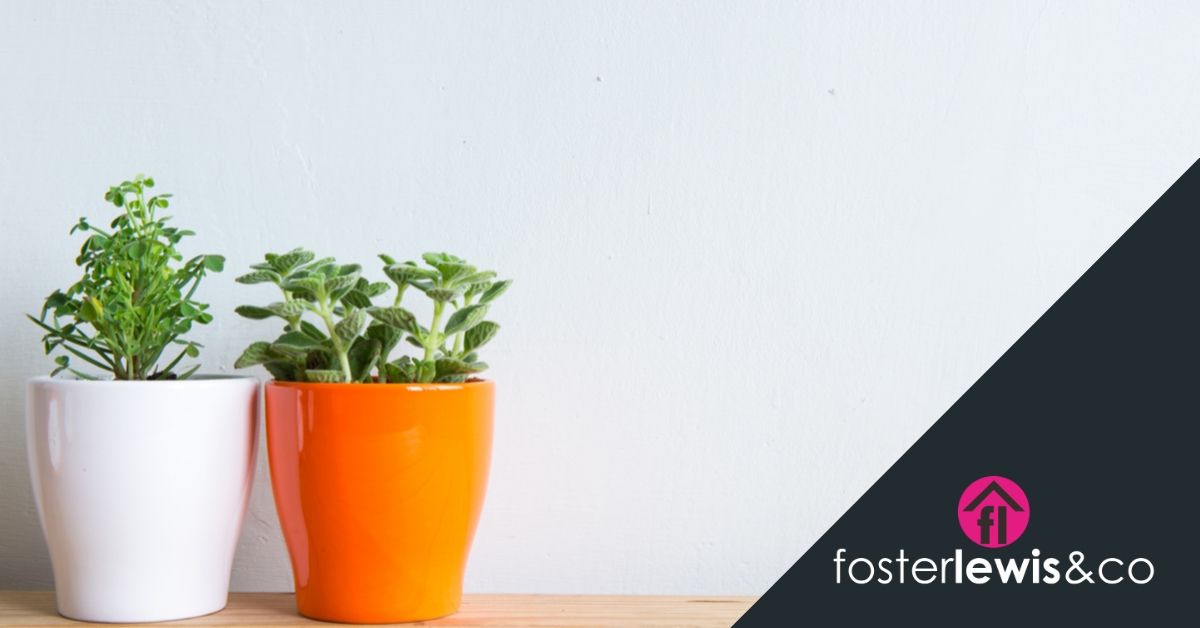 Golden rules
Unhealthy, out of control or overly large plants are a distraction – remove them before sales photos are taken.
Dried arrangements and silk flowers are more of a negative than a positive. Dried flowers are perceived as old and dusty, and silk or artificial flowers are seen as that – artificial and fake. They can also be grubby, fade in patches, and look dated. The only time you might use artificial flowers or plants is if a property is unoccupied during the viewing process. Make sure they are of good quality and are kept free of dust.
Don't have a display of overly scented flowers or poisonous plants. Heavy floral scents are off-putting and will give the impression you are hiding a more unpleasant smell. There's also a chance that a potential buyer (or their curious child) will touch a plant.
Suggestions
Above everything else, any plants or flowers you have in the house must be healthy and in proportion. Make life simply by picking easy to care for plants.
Leafy plants work well, for example, the philodendron. It's easy to care for, and big dark green leaves and can improve the quality of the air too, which is a bonus. Keep an eye on a philodendron, as they can grow up to 3 meters if well-kept! But hopefully you will have moved house by then, so it shouldn't be too much of a worry.
On the smaller end of the spectrum, succulents work well indoors and are curious to look at so create a feature focal point.
Ferns are another lovely indoor plant, offering a bit of texture and shape. Keep them away from radiators or bright, sunny spots.
For the easiest to care for, most tolerant plant, go for a snake plant. Their tall leaves still look fresh, even after a few weeks of neglect (but obviously we'd recommend you take care of it!).
If you're struggling to find the ideal plant for your home, we'd recommend heading to Smiths Nurseries and Garden Centre in Baginton. The lovely, local staff at this independent garden centre will help you identify the best plants for your home and advise you on care too.