Coventry property market trends
We at Foster Lewis and Co believe that the Coventry property market is bouncing back and seems to be immune from national trends at times. While places like London and Brighton experience sudden swings in property value (see the our blog posting on First-time buyers face unaffordable blackspots in some British cities), the dynamism of the market in Coventry means that we have a steady supply of affordable housing at the first time buyer end of the market with great value property at each level of the property ladder with access to great transport links and good schools.
While it is often tempting to hope for Coventry to be the next property hotspot, the steady nature of the Coventry property market means everyone gets a decent chance of getting on the property ladder if you do the right things i.e. have savings or access to a deposit (bank of Mum and Dad?), good credit score and steady employment record.
Just last week on 5 May 2016, we sold five houses in one day, which shows that the combination of our extensive local knowledge, great customer service, proactive house selling techniques and distinctive branding works. Is it possible to detect any particular trends in the Coventry property market?
Coventry property market trends
Before looking forward it is useful to look back at the 2015. According to the house price website home.co.uk, the Coventry property results show these trends:
There was a slight fall in average overall price of 1%, however this trend was masked an increase in the price of detached, semi-detached and terraced properties of over 4 to 6%.
Jan 2015
Jan 2016
Change
 Detached
£268,041
£285,058
+6%
 Semi
£166,865
£176,724
+6%
 Terraced
£130,771
£135,836
+4%
 Flat
£100,534
£100,358
-0%
 All
£158,660
£156,500
-1%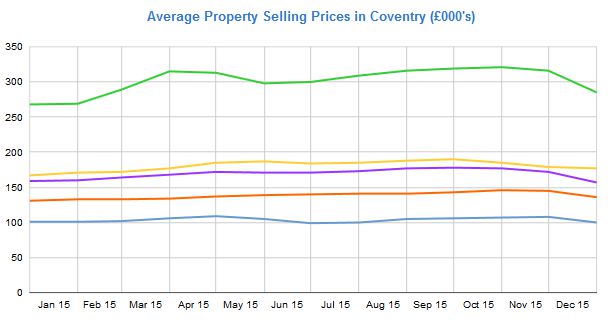 The number of properties sold in January 2015 is more than January 2016, however the Coventry property market has picked up considerably over the last few months.
Jan 2015
Jan 2016
Change
Detached
58
26

-55%

Semi
88
85

-3%

Terraced
170
158

-7%

Flat
40
32

-20%
While we don't expect to see big swings in property prices over the next few months, the Coventry property market appears to be in healthy state with good news on investment by major local employers and development in the City of Coventry.
The situation can change so it is best to talk to us first if you are thinking of getting onto the Coventry property market. There is no obligation and we are very happy to help. Get in touch with our office on 02476 592929 or use our Contact form.
See this page for more information on Coventry property market trends: http://www.home.co.uk/guides/house_prices_report.htm?location=coventry&startmonth=01&startyear=2015&endmonth=01&endyear=2016